Designer: mrskreativmaus
Hi there…
One of the free amigurumi crochet patterns we will share today is the amigurumi gnome, whose photos and design belong to mrskreativmaus. You can learn how to crochet these gnome using the free amigurumi pattern. Thanks to mrskreativmaus for this cute little gnome.
Amigurumi cats, amigurumi dolls, amigurumi dogs, amigurumi unicorns, amigurumi lambs, amigurumi dinosaurs, amigurumi foxes, amigurumi bears, amigurumi giraffes, amigurumi pigs, amigurumi penguins, amigurumi panda, amigurumi llama, amigurumi bunny, amigurumi clowns, amigurumi elephants, amigurumi hippos, amigurumi monkeys will not be difficult for you…
Abbreviations
MR: Magic ring
St: Stitch
Sc: Single crochet
Slst: Slip stitch
Hdc: Half double crochet
Dc: Double crochet
Ch: Chain
FLO: Front loop only
BLO: Back loop only
Inc: Increase
Dec: Decrease
Inst: Into the next stitch
Materials
Cotton yarn (50g/125m) skin color, hair color, body color, hat color.
Embroidery thread in black.
Crochet hook size 2.5 mm
Needle for sewing.
Fiberfill.
Stitch marker.
Scissors.

• With the specified materials the crochet gnome will be about 12 cm tall.
CROCHET LUCKY GNOME AMIGURUMI FREE PATTERN
Body
Begin with the body color, here purple.
Rnd 1. 6 sc in MR (6)
Rnd 2. 6 inc (12)
Rnd 3. (1sc,inc)*6 (18)
Rnd 4. 1sc, inc, (2sc,inc)*5, 1sc (24)
Rnd 5-9. 24 sc (24) (5 rnds)
Rnd 10. 6sc, (1sc,dec)*3, 9sc (21)
Rnd 11. 7sc, (dec)*3, 8sc (18)
Start stuffing the body.
Rnd 12. (1sc,dec)*6 (12)
Rnd 13. (1sc,dec)*4 (8)
Change color to skin color.
Don't cut the thread and continue with the head.
Rnd 14. 8 sc (8)
Rnd 15. FLO: (inc)*8 (16)
Rnd 16. (1sc,inc)*8 (24)
Rnd 17. (3sc,inc)*6 (30)
Crochet the ears next round. Make sure that the decreases from the body part are in the middle between them. If necessary, move the stitches a little.
Rnd 18. 9sc, bobble st, 13sc, bobble st, 6sc (30)
Rnd 19-22. 30 sc (30) (4 rnds)
Rnd 23. (3sc,dec)*6 (24)
Rnd 24. 1sc, dec, (2sc,dec)*5, 1sc (18)
Rnd 25. (1sc,dec)*6 (12)
Rnd 26. (dec)*6 (6)
Fasten off, pull the thread through the 6 front loops to close the opening.
You can embroider the nose directly with the thread.
The nose is placed one round below the ears (rounds 17/18). Embroider 2 times over 2 stitches.
Weave in the end.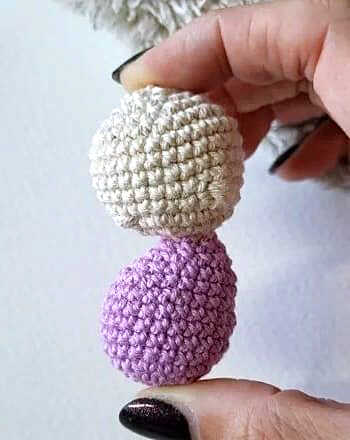 How to crochet a bobble stitch.
In this pattern a bobble stitch is crocheted with 3 dc together.
To crochet a bobble stitch, yarn over, go into the next stitch, pull up a loop and then yarn over, pull up just through the first two loops. Keep adding two more stitches going through the same stitch. When you have four loops on your needle, yarn over and pull up through them.
Hat
Hat color, here salmon.
Rnd 1. 4 sc in MR (4)
Rnd 2. (1sc,inc)*2 (6)
Rnd 3. 6 sc (6)
Rnd 4. (2sc,inc)*2 (8)
Rnd 5. 8 sc (8)
Rnd 6. (3sc,inc)*2 (10)
Rnd 7. 10 sc (10)
Rnd 8. BLO: (4sc,inc)*2 (12)
Rnd 9. (3sc,inc)*3 (15)
Rnd 10. (4sc,inc)*3 (18)
Rnd 11. BLO: (2sc,inc)*6 (24)
Rnd 12-13. 24 sc (24) (2 rnds)
Rnd 14. BLO: 24 sc (24)
Rnd 15. (3sc,inc)*6 (30)
Rnd 16. 30 sc (30)
Rnd 17. BLO: 30 sc (30)
Rnd 18-19. 30 sc (30) (2 rnds)
Rnd 20. BLO: 30 sc (30)
Rnd 21. 30 sc (30)
Rnd 22. FLO: 30 sc (30)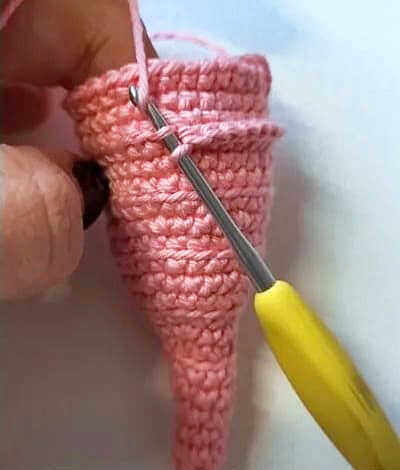 Fasten off and weave the yarn end in.
Pick up the thread in a fl of round 20.
Crochet 1 slst in each fl.
Crochet into the fl of rounds 17, 14, 11 and 8 in the same way.
Sew all the threads securely inside the hat.
Hair
Version 1
Hair color, here beige.
Begin in a bl of round 22. crochet:
3 ch, sc into the next stitch until the end of the round.
Cut the thread long to sew the hat onto the head.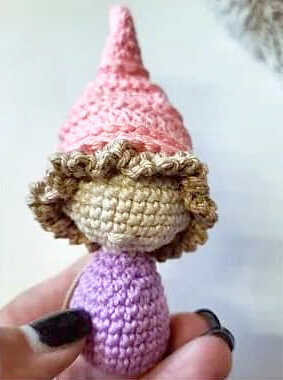 Version 2
Hair color, here brown.
Begin in a bl of round 22. crochet:
sc into each bl until you have passed the ear (try on the hat and check the position).
Work the fringe:
1 ch, sc, inst, (2ch, sc inst)*2, (3ch,sc inst)*2, 2 ch, sc inst, 1ch, sc inst.
Crochet sc until the end of the round.
Cut the thread long to sew the hat onto the head.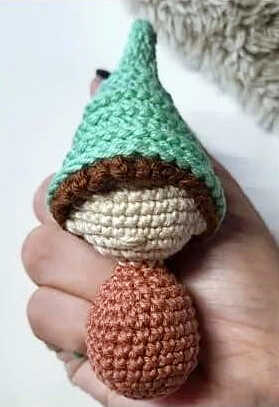 Finishing
Embroider the eyes. They are embroired right next to the nose (leave 1 stitch free) and go over round 18.
Embroider the eyebrows with black thread or thread hat matches the hair color, two rounds above the eyes.
They go diagonally over one stitch.
If you like, apply some blush to gnome's cheeks.
Congratulations, you have completed the amigurumi cute little gnome pattern.
Thank you for visiting our website blog.amigurumiallfreepatterns.com.