Designer: meraki_crochetstudio
Hi there...
One of the free amigurumi crochet patterns we will share today is the amigurumi fish whose photos and design belong to meraki_crochetstudio. You can learn how to crochet these fish using the free amigurumi pattern. Thanks to meraki_crochetstudio for this cute fish.
Amigurumi cats, amigurumi dolls, amigurumi dogs, amigurumi unicorns, amigurumi lambs, amigurumi dinosaurs, amigurumi foxes, amigurumi bears, amigurumi giraffes, amigurumi pigs, amigurumi penguins, amigurumi panda, amigurumi llama, amigurumi bunny, amigurumi clowns, amigurumi elephants, amigurumi hippos, amigurumi monkeys will not be difficult for you…
Material
Crochet hook: 1 mm
Cotton yarn in two different colors
Some white yarn
Fiberfill
Sewing needle
Beads for the eyes
Abbreviations
ch – chain
R – round or row
sc – single crochet
sl st – slip stitch
inc – make two single crochet in one stitch
dec – crochet two stitches together with a sc
puff st – puff stitch
BLO – back loops only
hdc – half double crochet
dc – double crochet
CROCHET FISH AMIGURUMI FREE PATTERN
Head and Body
Start at the head with color 1
R1 6 sc into the magic loop (6)
R2 sc x6 (6)
R3 inc x 6 (12)
R4 (3 sc,inc) x3 (15)
R5 (4 sc,inc) x3 (18)
R6 (5 sc,inc) x3 (21)
R7 (6 sc,inc) x3 (24)
R8 scx24 (24)
R9 (3 sc, inc) x6 (30)
change the color
You will need to change the color after each stitch in rows 10, 12, 14. Make sure you
change the color before completing the previous stitch. Don't secure the top of the
puff stitch with a chain.
R 10 (puff st using color 2, 1 sc using color 1) x15 (30)
R 11 sc x30 using color 1(30)
R 12 same as R 10
R 13 same as R 11
R 14 same as R 10
Use color 1 for the rest of the body
R 15 (3 sc, dec) x6 (24)
R 16 (6 sc, dec) x3 (21)
R 17 (5 sc, dec) x3 (18)
R 18 (4 sc, dec) x3 (15)
R 19 (3 sc, dec) x3 (12)
R 20 sc x12 (12)
Stuff the fish, fasten off and sew the body.
Tail
Start at the body at the point marked with the red circle.
R1 chain 16
R2 15 sc, sl st into the same stitch where you started crocheting the tail
Crochet all the other rows using back loops only and making each row one sc shorter. You can make 2-4 rows in each sc of the body depending on how wide you want the tail to be. R3 14 sc BLO
R4 13 sc BLO
R5 14 sc BLO etc.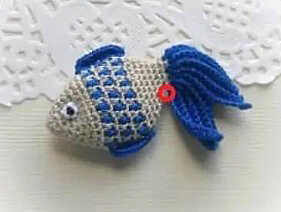 Fins
Make the fins using hdc or dc
Eyes (the white part)
5 sc into the magic loop, sl st
Congratulations, you have completed the amigurumi fish pattern.
Thank you for visiting our website blog.amigurumiallfreepatterns.com